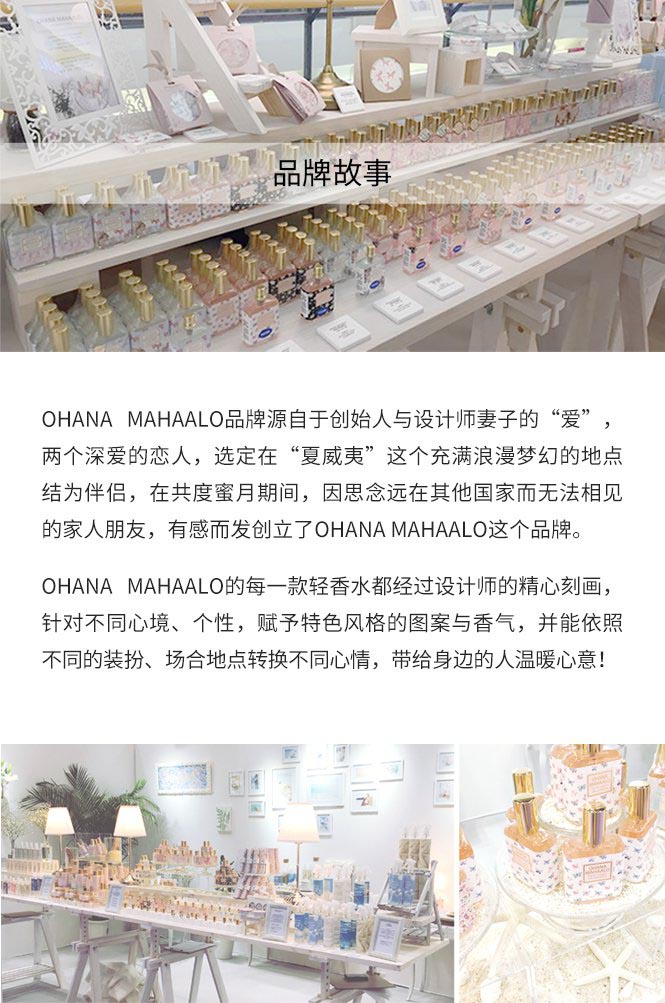 OHANA MAHAALO Eau de cologne (Halia nohea)
Originating from Hawaiian, Ohana means family and partner. Mahalo means gratitude. What the brand wants to convey is to thank the family and partners around you with long-lasting blessings. The series represents an attitude towards life, yearning for LOHAS and nature, just like the feeling brought by Hawaii, passion, warmth, blessing and love for the earth.
Eau de cologne for short, cologne, also known as cologne, is a light perfume with a concentration of 2-3%. It is currently the most popular fragrance product in Japan. Due to the low concentration of flavor, the fragrance is light and not pungent, and it will not be too strong. It is deeply loved by office workers and students. The small volume of 30ml is easy to start and easy to carry. A variety of personalized designs, colorful, you can change the perfume at any time, or as a gift based on different personalities.
Fragrance: floral, comprehensive fruity, amber
How to use: After going out or bathing, gently spray it around your wrist, neck, and behind your ears.