KISS ME Heroine Make 柔滑眉笔 #01淺啡色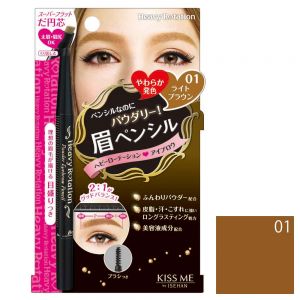 Description
An innovative, dual-ended eyebrow powder pencil Long-lasting formula resistant to sweat, sebum & rubbing Contains panthenol & amino acid treatment ingredients for nourishment Ultra-flat oval pencil tip allows both fine & thick drawing with ease of control Spiral eyebrow brush helps comb the eyebrow flow before makeup & modifies color after makeup Creates clear & natural-looking eyebrows with a soft-touch finish.
How to Use

1) Brush you brow hair up vertically with the spooley end and draw a thin line along the hairline following the lower arch.
2) Brush your brow hair down and define the top of your brow arch in the same way.
3) Fill in any gaps or sparse areas and groom the color through your brows.