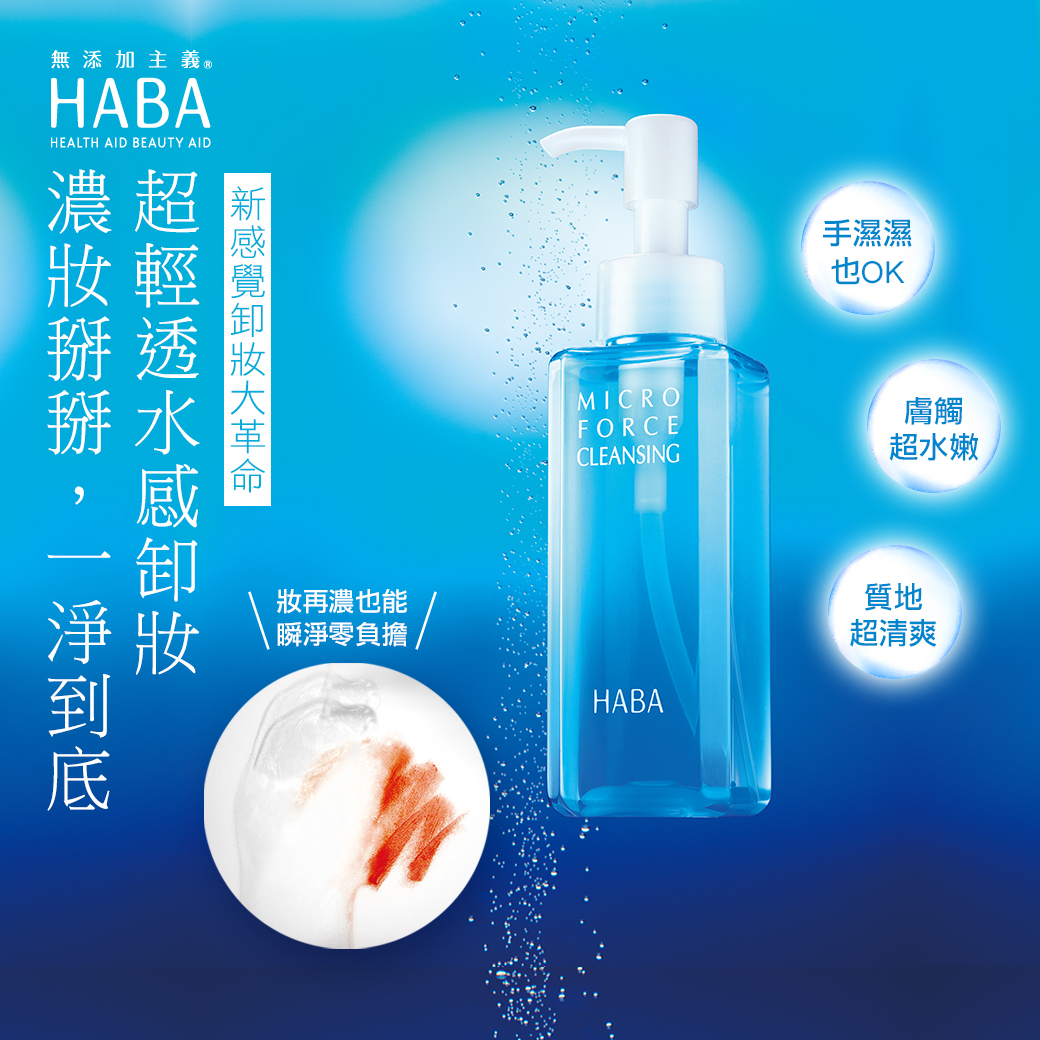 以水为基底的新感觉卸妆露,创新的角鲨微粒淨妆科技,能迅速与彩妆融合,轻鬆带走浓重彩妆,连毛孔髒污、老旧角质都一起清光光!
质地好清爽,触感好轻透,一冲即淨好舒适,洗后肌肤水嫩清新,给你无负担的洁淨幸福感♥
◎手湿湿也OK
◎卸完不用再次洗脸
◎种睫毛也能使用
独家「角鲨微粒子」卸妆科技,瞬淨不费力
HABA首创将角鲨精华微粒化,并在外层以水分与保湿成分包裹起来;兼具「水」的清爽质地,以及「角鲨油」的超强卸妆力,能瞬间吸附彩妆, 轻鬆卸除。
角鲨微粒子被水和保湿成分包裹起来。 角鲨微粒子能迅速吸附浓厚彩妆。 外层的水分子一遇到水就瞬间融合,
一冲即淨,毫不费力!
不只彩妆,连毛孔髒污都通通清光光
独特的角鲨微粒子,不仅能迅速带走彩妆,更能使皮脂、毛孔髒污、老旧角质浮出肌肤表面,卸妆、洗脸,一瓶就够!
丰富保湿成分,洗后肤触好水嫩
独特角鲨配合植物萃取,卸妆同时保养。洗后肌肤水嫩柔滑,清爽不紧绷,打造水感美肌。
♥角鲨精华:保湿滋润
♥扶桑花精华:温和去角质
♥紫草根精华:安抚镇定
♥月桃叶精华:柔嫩保水
The water-based makeup remover and the innovative particle cleansing technology can quickly blend with makeup and easily take away heavy makeup. Even the dirty pores and dead skin will be cleared together!
The texture is refreshing, the touch is so light, and it is comfortable after washing. The skin is soft after washing, giving you a sense of cleanliness and happiness without burden ♥
◎Wet hands are OK
◎No need to wash face again after
◎Can also be used for eyelashes
Exclusive "particles" makeup remover technology, instantly clean and effortless
HABA is the first to micronize essence and wrap it with moisture and moisturizing ingredients on the outer layer; it has the refreshing texture of "water" and the super cleansing power of "oil", which can instantly absorb makeup and remove it easily.
♥Squalene essence: Moisturizing
♥Hibiscus flower essence: Gentle exfoliation
♥Lithospermum root essence: soothing and calming
♥Alpinia zerumbet essence: Soft and water-retaining