This cream is a whitening care cream that brightens the skin tone instantly.
FEATURES
It can be used while sleeping, instantly tone up the skin.
It smooths the surface of the skin, makes skin glossy naturally.
Continue to protect your skin for 24 hours with no additives.
Can be used for the body.
21 kinds of plant ingredients such as vitamin C derivative and placenta extract support continuous skin clarity.


Synthetic coloring, synthetic fragrance UV absorber, and paraben-free.
HOW TO USE
Can use it day & night as a moisturizer or make up base.



Cheryl阿古屋珍珠素颜霜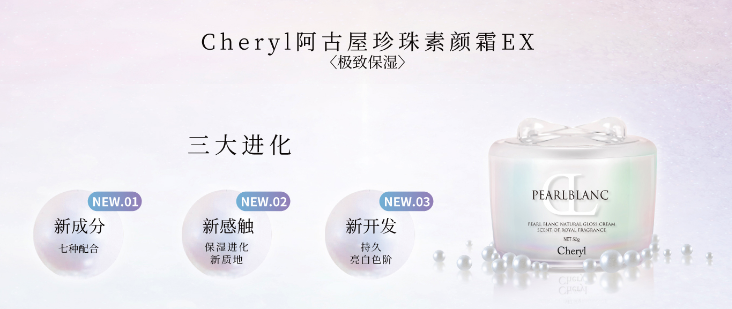 保湿进化升级质地,由CH浓密再升级。
更加柔嫩滋润渗透的瞬间,让水润充满肌肤。
产品特点
吸收多余的皮肤油脂后,自然地打亮色阶,EX将CH的白雪肌再加以升级持久自然。
皆适用于各种肤质,
推荐以保湿不足的肌肤(冬天肌肤,干燥肌肤)或配合季节来做搭配使用。
无添加防腐剂、合成着色剂、合成香料、矿物油、合成介面活性剂。
奢华的保湿成分,在化妆水之后使用此乳霜,隔天早晨像不经意的梦一样充满光泽的美肌。
流汗也OK,不易脱妆,
不干燥像公主的美肌一样,有汗水也不怕,防水不脱妆。
使用方法
无需卸妆,这款素颜霜是护肤品而不是化妆品。
轻薄水润,水润质地,快速上妆,由内而外,轻松透显素净裸妆感。
使用步骤
早晨:洁面-爽肤水-乳液-素颜霜-防晒-彩妆
晚上:洁面-爽肤水-精华液-素颜霜
懒人素颜攻略:洁面-爽肤水-素颜霜