Description
An eyeshadow with high-luminosity pearl particles that make your eyelids look brighter, correcting irregularities in skin tone and giving you added radiance.
Tone-up base: A base color that clears under-eye bags and dullness, making your eyes look clearer and more beautiful. For a clear, sophisticated radiance! Apply to the whole of your eyelid, either on its own or under another color.
Moisturizing highlighter: A highlighter that adds the brightness and sparkle of stardust to the inner corner of your eyes, the area under your brows and the under-eye area. Use over another color for extra dazzling eyes!
●HOW TO USE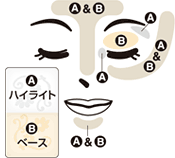 (A) Highlighter
Apply to the inner corners of the eyes, under the eyebrows, and under the eyes.
(B) Base
Apply over the whole eyelid. Banishes dullness and makes eyes look brighter.
Mix (A) & (B)